Good afternoon, ladies and gentlemen. Dear Scholars and fellows.
It's a wonderful honour to stand before you today, and very grateful for this opportunity.
My name is Felix Fomengia, and I am a 2022 Chevening scholar and now an alumni. I am from Cameroon and studied for an MSc in Cybersecurity and Forensics at the University of Westminster, thanks to Chevening.
Just like the start of your great journeys today, my Chevening journey has been a transformative and life-changing experience. I am filled with so many unforgettable memories that have left a lasting impact on me.
As a Social Media Ambassador, I got to do some incredible things, but my favourite memory would have to be attending the 2023 Commonwealth Day in the presence of His Majesty the King. This was an unforgettable experience for me.
I had the opportunity to study at a world-class university, studying my dream course, attending Chevening events, exploring the UK, visiting different cities and landmarks, and learning about the rich culture and history of the UK.
Through my Chevening year, I have developed wonderful connections and networks, documented great memories of a study year, and created lasting positive relationships with the UK. Now I belong to the global Chevening alumni network numbering over 57,000 leaders and innovators worldwide.
I am very determined to use everything I have learned to create a positive impact in my world. My legacy is to return home and put into practice all that I have acquired during my Chevening journey to drive transformative impact in Cameroon and across Africa.
Work to promote cybersecurity culture and safe working computer system environments. Also, further improve our projects and empowerment initiatives already running in Cameroon. Collaborate with our local British embassy to support their work and engage in projects.
I will forever cherish this opportunity.
I will end by wishing you a wonderful welcome to the UK and that you enjoy the exciting adventure and life-changing journey that awaits you.
If you ask me for an advice "I will say you're on a world stage, make each day count, and make the most of your prestigious journeys".
Thank you.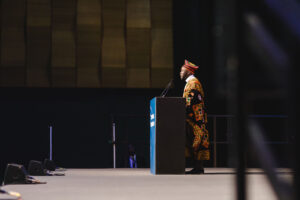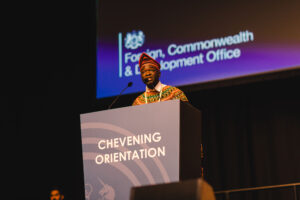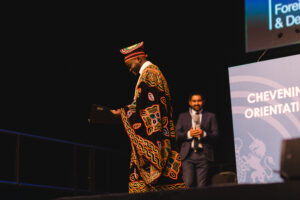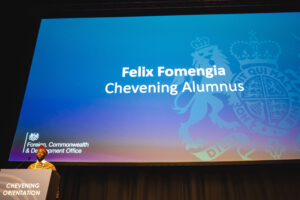 Orientation is #Chevening's largest flagship in-person event of the year and brought together a gathering of over 1,400 scholars, the FCDO, and the Chevening Secretariat for the first time to officially welcome its 2023 scholars. This year's orientation is even more special. Chevening celebrates its 40th anniversary with a global alumni community of more than 57,000 leaders, including 20 current or former heads of state.
Chevening is the UK government's international scholarships and fellowships programme.
https://www.chevening.org/